I love watching the Food Network Channel. Each morning I watch Giada at Home and am just so inspired by everything she makes! It also makes me realize how much I am lacking in the kitchen. This in turn makes me want to drive to Bed Bath and Beyond and gather up all these beautiful items and go back home and set to work. Things that would look
so great
in my kitchen include: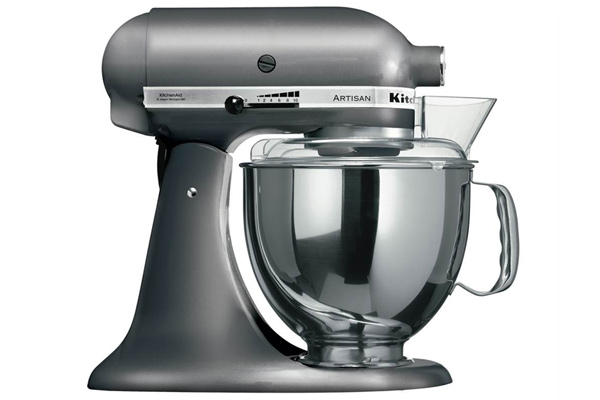 and

and
But anywase.....I am still currently living in Hawaii and unable to buy a beautiful animal and am still on Weight Watchers so I really don't 'need' a standmixer.....
Oh Weight Watchers.... I really do love the way Jake and I are eating. I love that are meals are healthy and well thought out and I do love that I have lost a total of 6 pounds. Even it is 6 measley pounds (I have been on this blessed diet for 3 1/2 months) thats like 6 sticks of butter right? The lady at the grocery store looked at my ID card and said that I was looking good and that I don't look like the same person. However, you need to understand that I was wearing glasses at the time and wasn't laughing like a complete idiot like I am in my ID photo. It was awkward but at the same time made me smile inside even if she was exaggerating. I can't tell any difference and probley no one can tell but the little scale machine claims that I have lost the weight so that makes me a little happier.
I have been working on a completley hand-made Christmas stocking. Let me just tell you the directions come in tiny print and cover 2 sides of a sheet of paper longer than the average piece of computer paper. EVERYTHING is hand-stitched. There are approxiamtley 20,000 little felt pieces to sew on to this stocking. And 100,000 little sequins and beads to stitch in. It is still pretty pathetic looking. I have spent a total of 5 1/2 hours on it and have sewn... about 10% of the thing together. No make that like 5%. BUT, my mom hand-made all of our stockings when we were born and hand-made hers and daddies so I want to be just as cool has her and my memaw. Even if Jake doesn't understand all that is going into these blessed stockings, at least I DO and they BETTER look just as good as the PICTURE! It has gotten to the point where I have to keep my fingers under warm water because that happens to be the best feeling ever for purple,ugly, pin-pricked fingers. :)

This is supposed to be a little cake on it's cake stand...

This will hopefully turn out to look like a gingerbread house

I wasn't exaggerating about the instructions...
 
The one of the right is 'supposedly' going to turn out and look like the one of the left.



Jake gets a four day weekend!!!! PRAISE THE LORD! I am so excited because he has been home for a couple of days but still has been working so long and I can't wait to just sit and talk and talk and talk and watch Sons of Guns, Burn Notice, and American Chopper! I would love to go see the Lion King this weekend and enjoy some Ruby Tuesdays. Maybe go up to BBB and buy some new dishes and their new Harvest and Pumpkin Spice Yankee Candle! I just got their coupons in the mail today :). 
I leave 3 weeks from today to go home and see my family! I'm so excited! I don't like seeing them only 3-4 times a year. Aubree will be coming in the exact same day as me and hopefully we won't be at each others throats after the first weekend! I really do love my sisters :)
We are busy that week I am home tho. We have Sarah's shower, Sarah's Bridal portraits, and Leslie is SUPPOSED to have little Brooks! I am so excited tho. The only thing missing is Jake.... and a
golden retriever..
Well I am off to make some Weight Watchers Pumpkin Bread! Aren't you jealous?? Maybe I'll be a little crazy and put some fat free cool whip on it!!! Yes, this is my life.....
BTW......
HAPPY BIRTHDAY AMANDA SHOOK
!!!!!!!!