So...this was the only picture I took today... :)
Today was one of the best days I have had in such a long time! And really, there wasn't anything that could be looked at as spectacular or exciting, it was just a great day. I woke up to the most wonderful man in the world which makes every day start out great. Last night we went to go see the new Pirates of the Carribean movie and it was good. I mean, Jake and I had just finished watching the Lord of the Rings Trilogy that same afternoon and after watching that series, it is kind of hard not to compare. I mean first of all you have Samwise which happens to be my all-time favorite book character. Right before Neville Longbottum.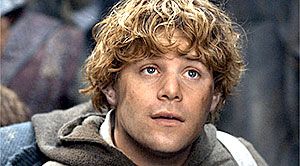 This is Samwise. He is a gardener, friend, and hobbit.
And then you have his relationship with Frodo and the trust, loyalty, and courage that is all bundled up and happily packaged within their friendship. I mean the boat scene in the first movie is the best scene ever made!
It really is/was the best scene ever made.
Ok, I'll stop talking about Lord of the Rings. I think I was talking about the Pirates movie, which to be honest, I can't really remember much about it now..oh wait... so the lady in the movie says the B word and its a Disney movie. That pretty much turned me off to the movie oh and the D word.
So after waking up we got ready to go the mall and beat the traffic. We went to Banana Republic and got a shirt on sale which is the most wonderful purchases. Used to, I would not worry about that sort of thing. Being married has changed my entire view on clothing purchases. I always think, "Wait that could be gas money...grocery money...a car repair...ticket home"...well, you get the idea so I rarely shop anymore. It is so silly to think about all the wasted money I spent on clothes just to have them kept in my closet...in Arkansas! I am learning to be a steward with the money God has graciously blessed us with. Clothing is a materialistic idol that many women today get way too caught up in. Each time I get on facebook it seems like many girls have to have the latest item, shoe, purse, computer, phone, hat, luggage, jacket..etc. I am ashamed to say that I once strove for that but that is such a sin of needless and selfish desire. So I either wait for holiday weekends or look forward to shopping trips with my momma! I saw on CNN that BBC America has done a study that has shown that the same regions in a person's brain that lights up when he/she looks at a religious symbol (cross) that the same areas light up in people who are Apple Fanatics brains when they see an Apple sign. Sadly, I believe that.
Afterwards we went over to the NEX and Jake bought me a Vera Bradley makeup bag that was $6 cheaper than retail stores! I know, i'm pretty lame but I was excited! We went out to eat, which we try to do once ever week or every other week, and enjoyed some really good american food. We also went baby clothes shopping and fell in love with everything I saw!!!
I leave to go home in 3 days and it is so exciting and sad at the same time. I wont be able to speak to Jake for about a month but the last time he left I was all alone but this time I will be with my family! I can't wait to see what my sister is doing with the little house next door. I am also so excited to be able to go to Christina's wedding! Aubree is coming home 2 days earlier and the Gordon's have their pool open and all ready for Jacque and me!
Something else that I have found handy to have around the house would be our Keurig coffee maker. You just pop one of those K-cups into the machine, wait for the little coffee cup button to light up to blue, and your coffee is ready to be made! I wasn't a huge coffee drinker until I started watching As Time Goes By. It is this great british comedy that comes on on PBS on Saturday nights and it just makes me feel all wonderful inside. Anywase, the characters all look so grown up drinking their coffee and tea with cream and sugar so I thought, well, I want to look like them! Well, this story is a little exaggerated. I also got into coffee when school started to turn into hell. :)

Great Christmas Present!