Anyone out there looking for a great book series to read? Let me suggest a few:
Top favorites:
Fablehaven by Brandon Mull
My family and I absolutely love this series. There are a total of five books. I love it. It is a utopia full of adventure, mischief ( oh Seth....), magic, suspense, and full out awesomeness. Please, if you are looking for a great series to start as a family or individually looking for excitement, give Fablehaven a try!
Kendra and her brother, Seth, have no idea that their grandfather is the current caretaker of Fablehaven. Inside the gated woods, ancient laws keep relative order among the greedy trolls, mischievous satyrs, plotting witches, spiteful imps, and jealous fairies. But when the rules get broken, powerful forces are unleashed, and Kendra and her brother face the greatest challenge of their lives. To save their family, Fablehaven, and maybe even the world, Kendra and Seth must find the courage to do what they fear most. - Back page of the book
Mark of the Lions by Francine Rivers
Anything by Francine Rivers is a must for this girl. She is amazing with her words and her knowledge of the scriptures.Besides Redeeming Love, this would have to be my favorite series (right before Lineage of Grace). You will begin with A Voice in the Wind and continue on with 2 more books marked by faith, contentment, and God's infinite Grace.
A Voice in the Wind brings readers back to the first century and introduces them to a character they will never forget- Hadassah. Torn by her love for a handsome aristocrat, this young slave girl clings to her faith in the living God for deliverance from the forces of decadent Rome.
Hound of Rowen- The Tapestry Series by Henry H. Neff
What all can I say about this series? If you like Harry Potter you will love this series.
That is all.
I love HP and don't really compare the quality of this series to others but this series is amazing in it's own way. This book is amazing. Done. Complete. Read.


MAX MCDANIELS LIVES a quiet life in the suburbs of Chicago until the day he stumbles upon a mysterious Celtic tapestry. Many strange people are interested in Max and his tapestry, and his discovery will lead him to Rowan Academy, a secret school where great things await him.
But dark things are waiting, too. When Max learns that priceless artworks and other gifted children are disappearing from around the globe, he finds himself in the crossfire of an ancient struggle between good and evil- exertion from Amazon.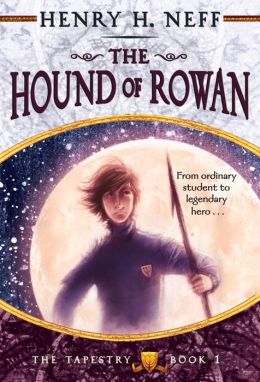 King Killer Chronicles- Patrick Rothfuss
Wow. This series is so unlike any I have read before. It is different and un-expecting. It is riveting. It is full of adventure. It is full of characters that are so interesting. They each have a different role to play and the good vs. evil in this book is unlike others I have read.
The riveting first-person narrative of a young man who grows to be the most notorious magician his world has ever seen. From his childhood in a troupe of traveling players, to years spent as a near-feral orphan in a crime- ridden city, to his daringly brazen yet successful bid to enter a legendary school of magic, The Name of the Wind is a masterpiece that transports readers into the body and mind of a wizard. It is a high-action novel written with a poet's hand, a powerful coming-of-age story of a magically gifted young man, told through his eyes: to read this book is to be the hero.- exertion from Amazon
These are just a few I read in 2013.
There are some that I read that were not good.
Serena and The Mists of Avalon especially. Those were just not good.
Please share some great series back with me! I am looking for some GOOD reads. Especially for more of these snow days coming along.